About West Lake Chiropractic
Our Patients Are Our Priority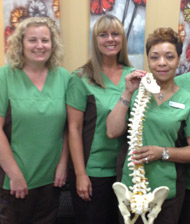 Dr. Heather Melling opened West Lake Chiropractic in 1997 as a family practice focused on individual patient needs. Dr. Brian Hooper joined the practice in 2020. With a focus on patient education and wellness, Dr. Melling and Dr. Hooper provide a customized treatment plan for each of their patients. With many care options under one roof, your plan will address your specific needs as well as your personal preferences for care. Our approach is not "one-size-fits-all."
Our Mission
To offer quality, conservative health care to the residents of Denver as an alternative to drugs and surgery through practicing in the most honest, efficient, cost-effective manner possible.
To educate the community to the many benefits of chiropractic services.
To provide for an increased quality of life in a friendly, personable environment.
To find someone who can help you if we can't.
Options You Won't Find Anywhere Else
West Lake Chiropractic is unlike other chiropractic offices. We offer a wide variety of care options and supplemental therapies, all under one roof. Dr. Melling is the only chiropractor in the area to offer her patients this level of customized care. Whether you are looking for relief from pain or are ready to pursue a plan for ongoing wellness care, Dr. Melling will design a care plan to fit your needs.
The Care You Need
Each of our patients receives a thorough examination and detailed consultation with their chiropractor. Based on the information you provide during this initial assessment, your doctor can determine whether you are a good candidate for chiropractic care.
Not every patient can find the results they want from chiropractic alone, but West Lake Chiropractic promises to at least be a starting point for every new patient. Dr. Melling's and Dr. Hooper's reputations of honest assessment have been earned from years of consistently performing thorough, detailed exams and consultations before adjusting. When you walk in our doors you will be helped in the best way possible for you.
If our doctors believe chiropractic care is not the right choice for you, they will guide you to the appropriate provider.
Not sure where to begin with finding pain relief? Call (704) 489-1999, and we'll help you find the way to relief and a healthier life.